Minecraft Birthday Parties
Use our custom, private Minecraft Server designed specifically for super fun amazing birthday parties.  Guests play safely with and against each other, since game play is only accessible from inside the building.  
Here are a few things that are included in each party!
"Op" privileges or "special powers" just for the birthday child, within the Minecraft World.
Game Coaches on hand to answer questions and help with gaming.
Virtual Reality Headset games in the Party Room! SO fun!
Loads of interactive games including player versus player games; suchas, Capture the Flag and Mob Arena.
Lounge area for parents and friends with wifi access.
A scavenger hunt with clues hidden inside the building.
Wii console games available in the Lounge as the guests arrive.
Minecraft accounts and computers are provided for all guests.  You won't need your own.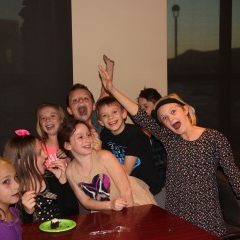 A $50 non refundable deposit is required to hold your special day and time.  After booking a reservation, you will receive an email with what to do next and how to complete the order.
Minecraft Parties
Additional 10% discount for students taking courses or private lessons. Can not be combined with other offers.
Parties are two hours long unless additional time is requested.
3 price options to chose from based on the total number of attendees.
Fun themed party add-ons can be purchased separately.
Choose the party month to see available days and times.
Party Prices
Before
discount

After student discount*
Up to 8 attendees
$250
$225
9 to 13 attendees
$350
$315
14 to 18 attendeees
$475
$428
Themed add-ons can take your party to the next level!  For a party that will surely be remembered, add-ons are available for purchase a la cart.  After reserving the special date, a link with pricing and purchasing information will be included in your Party Confirmation email.