Minecraft Birthday Parties
Use our custom, private Minecraft Server designed specifically for super fun amazing birthday parties.  Guests play safely with and against each other, since game play is only accessible from inside the building.
Here are a few things that are included in each party!
"Op" privileges or "special powers" just for the birthday child, within the Minecraft World.
Game Coaches on hand to answer questions and help with gaming.
Virtual Reality Headset games in the Party Room! SO fun!
Loads of interactive games including player versus player games; suchas, Capture the Flag and Mob Arena.
Lounge area for parents and friends with wifi access.
A scavenger hunt with clues hidden inside the building.
Wii console games available in the Lounge as the guests arrive.
Minecraft accounts and computers are provided for all guests.  You won't need your own.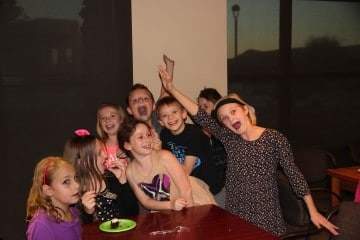 A $50 non refundable deposit is required to hold your special day and time.  After booking a reservation, you will receive an email with what to do next and how to complete the order.
Minecraft Parties
$250 starting price
Additional 10% discount for students taking courses or private lessons. Can not be combined with other offers.
Parties are two hours long unless additional time is requested.
3 price options to chose from based on the total number of attendees.
Fun themed party add-ons can be purchased separately.
Choose the party month to see available days and times.
Party Prices
Before
discount
After student discount*
Up to 8 attendees
$250
$225
9 to 13 attendees
$350
$315
14 to 18 attendeees
$475
$428
Themed add-ons can take your party to the next level!  For a party that will surely be remembered, add-ons are available for purchase a la cart.  After reserving the special date, a link with pricing and purchasing information will be included in your Party Confirmation email.
Themed Add-ons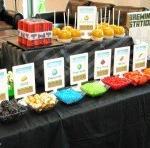 Minecraft snack table
Read more
Includes eight snack items with theme signs carefully and colorfully arranged, set out on a black and/or green cloth table covering.  Food items include a collection of chocolate, rock candy, fresh fruit and vegetables etc.  The potion brewing drink station makes a nice compliment to the themed snacks.  Pizza is also a food option.  Price vary slightly based on which party size is purchased.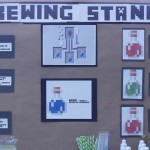 Potion mixing drink station
Read more
Children mix their own drinks using carbonated water or lemonade with flavored mix ins.  A fun trifold is displayed on how to make potions similar to what are in the game.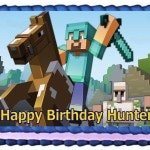 Custom photo cake
Read more
A 1/4" sheet cake topped with a custom edible photo image announcing your child's special day.
Cake flavors are: chocolate, white or marble cake.
Frosting trim flavors are: traditional buttercream or traditional chocolate buttercream.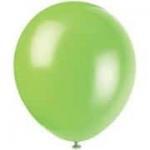 Themed decorations
Read more
Includes six latex balloons, green, black and/or brown and baby blue.  Minecraft style Happy Birthday announcement on the large tv screen in the front lobby, tissue paper grass mat and decorave gems for the food table.
Additional attendees
Read more
Is your party size just slightly too low for what you need?  Customers can purchase up to 1 additional attendee before needing to purchase the next party size up.  Max attendees for parties are 18 total.
Extended party time
Read more
Thirty extra minutes before and/or after the party may be purchased.
Themed party favors
Read more
Prepared one per guest.  Filled with chocolate M&Ms to take home at the end of the party.
Pizza
Read more
Medium cheese pizzas.  Let us know if you want a topping.
Pie recommendations:
Up to 8 attendees, two pies
9 to 13, three or four pies
14 to 18 guests, four pies
Soda or juice
Read more
Soda and/or juice by the liter can be ordered.  Let us know what soda or juice flavors (lemonade, apple juice, orange juice or ice tea) you would like.
Not quite sure yet?
Why not visit our contact page, we would love to chat with you!