Lots of youngsters love nerf guns, and the only thing more fun than shooting foam darts at each other is modifying our favorite model so that it shoots farther and faster and has more bling. Come learn about the possibilities.
Star Wars Virtual Reality (VR) Jedi Training
Your child will be able to experience emerging technology in this workshop! Students will do Jedi training in Virtual Reality, have access to a Waybright-only custom Star Wars minecraft server.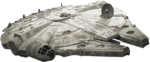 Harry Potter and Waybright Witchcraft & Wizardry
Find the magic in STEM in this 3-hour summer workshop. Learn about magical scientific phenomena, and deconstruct the mystifying logic behind tech.
Explore All Summer Offerings